June 21st Patch issues we are tracking and targeting for a Hot Fix!

Greetings MechWarriors!
Wow, what a patch! The Crusader is out! The New Map is out! Snubs are Back! But with all these amazing changes came a few issues. So here's a post and thread to keep you in the loop!
NOTE: We originally intended to have an Event this weekend in Event Queue, related to the release of the Crusader and Vitric Station, which would have also included the first Event Queue-specific in-game event with rewards like current Quick Play and/or Faction Play events. This Event is postponed until after the upcoming hotfix, when we can run the Event as intended. Additionally, Vitric Station will be added to the Faction Play map rotation with the hotfix.
Here are the current patch-related issues and information:

Tourmaline Desert is missing all game geo.
Cause: 
Final Export before the patch had one layer box Unchecked. The map had been previously checked by QA and Approved and this fresh export was assumed to be in the same state.
Status on Live: 
For the time being, we have left it in the map rotation. While unintentional the map remains playable so AFAIK the issue is not breaking gameplay. In fact, it is providing an interesting short-term alternative map version.  Players can Opt to not vote for the map. And if you notice modes not working correctly please let us know and we can take the map out of rotation.
FIX ETA: 
This will be fixed in the upcoming Hot-Fix ETA TBD

New Map Vitric Station occasionally receives a retro 80s shader effect.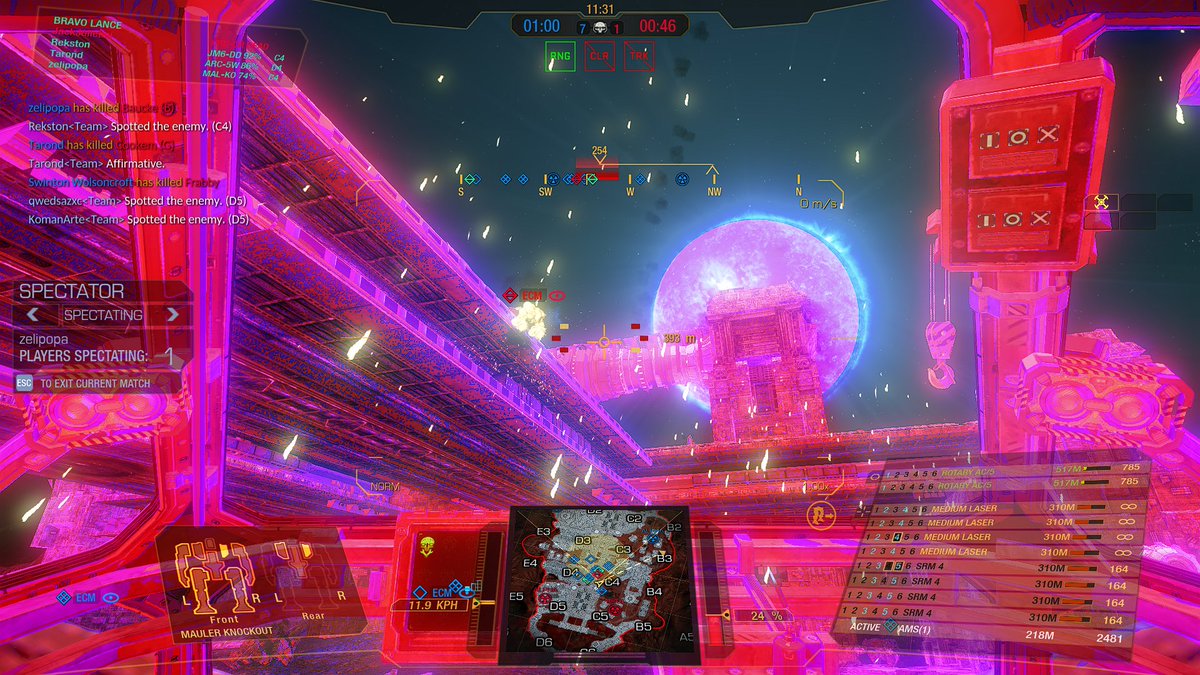 Cause:
Currently, we have not identified the cause of this issue but we do have a theory. The theory is that in some areas players are spawning outside of a post-processing volume and not receiving the screen space shader information. This may result in the screen space shader using the "replace me" default texture in Cry Engine. 
Status on live: 
Since the effect is somewhat intermittent and not game-breaking we are leaving the map live as it is a key part of the content released in this patch. Some players have opted to use "H" to enable Heat vision to sidestep this issue.  Some players embrace the bug and have a retro 80s party! 
FIX ETA: 
We are hoping to have a fix for this for the Hot Fix but do not have a reliable method to repro the issue. This makes it challenging to debug and confirm the fix difficult. 

Crusader Related Issues.
Thankfully the Crusader is relatively bug-free and people really seem to be enjoying this new BattleMech but there are a few minor issues that we are tracking.
Cause:
I am chalking this one up to this being the first new Mech in 3 years. Some of the tasks that used to be instinctual were overlooked. The good news is the BattleMech is here and people are having fun with experimenting new builds!
Status on live:

Head Structure points, Cockpit Glass toggle not working, and some minor animation issues.  
FIX ETA: 

We are working to clear up those issues for the Hot Fix.

We will update this post when we have an ETA on the Hotfix but our current target is Thursday next week.
If you spot something related to the new patch that is not on this list please let us know in the thread.

If you have a very specific issue related to your game, account, or content please use 
https://mwomercs.com/support
 as we won't provide direct support in the thread.
The MechWarrior Online Team.